LED Hazardous Area Work Light, as a kind of LED explosion-proof lamp, It is a lamp that takes various specific measures to prevent the ignition of the surrounding explosive mixture such as explosive gas environment, explosive dust environment, gas gas, etc.
In the past, floodlights were the most widely used light source in the production of renderings. Standard floodlights were used to illuminate the entire scene. In the era of low-carbon lighting,More and more Hazardous Area Work Light are used. Multiple Hazardous Area Work Lights can be used in the scene to produce better results.Applicable places are mainly suitable for use in flammable and explosive places such as drilling platforms, offshore oil platforms, oil refineries, chemical plants, tunnels, oil stations, oil depots, and ships.
Item NO.: EX-200W B3N50D120
Rated power (W): 200W
Explosion-proof mark: Exd II CT4
Installation method: wall hanging rod type, bracket ceiling type
Light color: white
Light source type: LED
Protection grade IP65
Light source power 200W
Voltage 100-277VAC
Light source efficiency 90%
Luminous flux  135lm/w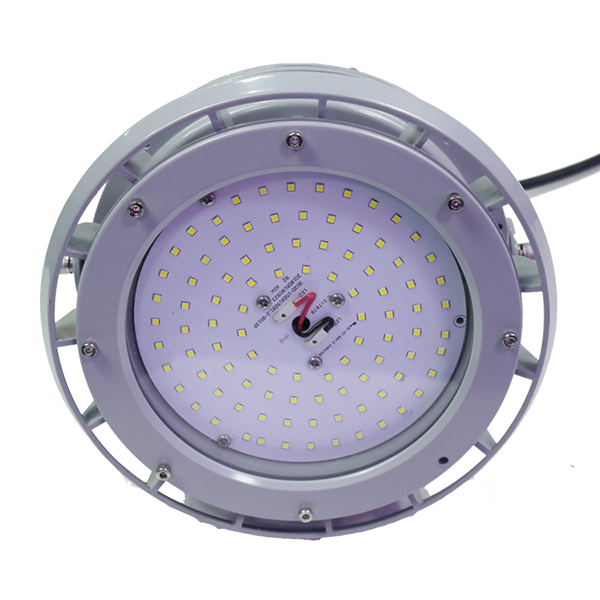 Product features
1, Optical system characteristics:
*Preferably imported chips, with excellent luminous flux maintenance and high luminous efficiency;
*Surface mount technology (SMT) is adopted to greatly improve thermal conductivity;
*Meticulously designed honeycomb light compensation structure to effectively improve the efficiency of the lamp
2, Driver system characteristics:
*Adopt constant current drive, with short circuit and overvoltage protection function;
*EA type can be used as normal working lighting with emergency function;
Type EB is simply used as emergency lighting and is usually off.
Type A and B can start emergency lighting immediately when the main power is cut off, and can also be used for external switch control to start at any time during the main power cut
*With excellent electromagnetic compatibility, it will not cause any interference to other electrical appliances and transmission networks, and the power supply itself has excellent anti-electromagnetic interference ability
*With wide voltage compatibility, tolerance 20% voltage fluctuation
*The drive power adopts glue sealing process to ensure that the components are not corroded
3, Features of cooling system:
*The three-cavity independent structure is carefully designed to ensure the stable operation of all electronic components
*Carefully design the heat dissipation duct with air diversion structure to ensure the service life of the LED light source
*The independent power supply cavity structure is carefully designed, and the power supply is not affected by the heat of the LED, ensuring the stable and long life of the work.

4, Structure characteristics of the whole lamp.
*IIC-class explosion-proof structure and IP65 protection grade are adopted, with excellent explosion-proof protection performance.
*The use of high borosilicate tempered glass can withstand high-energy impact
*All exposed fasteners and accessories are made of stainless steel with high corrosion resistance.
Here are our websites:LED Dock Lights suppliers, Canopy Lights suppliers, Corn Bulbs suppliers, Gas Station Lights suppliers, Grow Lights suppliers, Linear Lights suppliers, Temporary Lights suppliers , UFO High Bay Lights suppliers, Explosion Proof Lights suppliers, Flood Lights suppliers, Garden Lights suppliers, Post Top Lights suppliers, Parking lot lights suppliers, Shoebox Lights suppliers, Sport Lights suppliers, Stadium Lights suppliers, Street Lights suppliers, Wall Pack Lights suppliers, Solar Post Top Lights suppliers, Solar Street Lights suppliers, Classroom Lights suppliers, Emergency Lights suppliers, Exit Signs suppliers, LED Ceiling Fans suppliers, you can learn more about us by visiting our sites.